SPACES & EXPERIENCE TO HELP YOU GATHER & THRIVE
At Crowne Plaza Canberra we have everything you need to make your next business meeting or residential conference a success.
Our Canberra CBD location in a tranquil park setting is convenient for business meetings with conference rooms to suit small and mid-sized events, including board meetings, seminars, training sessions, team planning days and university exam venues to a dinner for up to 90 guests or cocktail parties for up to 150. Some rooms have natural light and each function room can be set in a variety of configurations, all with easy to use audio visual equipment.
Crowne Plaza Canberra is close to the National Convention Centre, office buildings, shops and restaurants. Parliament House and major attractions are a short drive away.
Delegates can take advantage of convenient onsite facilities, including comfortable accommodation rooms, secure undercover parking, free Wi-Fi access throughout the hotel and a 24 hour business center. Dining options include 24 hour room service & Redsalt Restaurant, offering modern Australian dishes and a succulent grill selection.
Should delegates wish to include car parking or extended complimentary Wi-Fi, please speak with our team to contract as per advised.
Find out how you could earn points for each hotel room you reserve or meeting you plan with the IHG® Business Rewards program.
Discover our special seasonal meetings offers and enquire now to find out how we can help you create a successful meeting, conference or event in the heart of Canberra city.
FIND THE PERFECT ROOM FOR YOUR EVENT
With a wide variety of venues to choose from, you're spoilt for choice. Pick the one that's right for you and we will take care of the rest.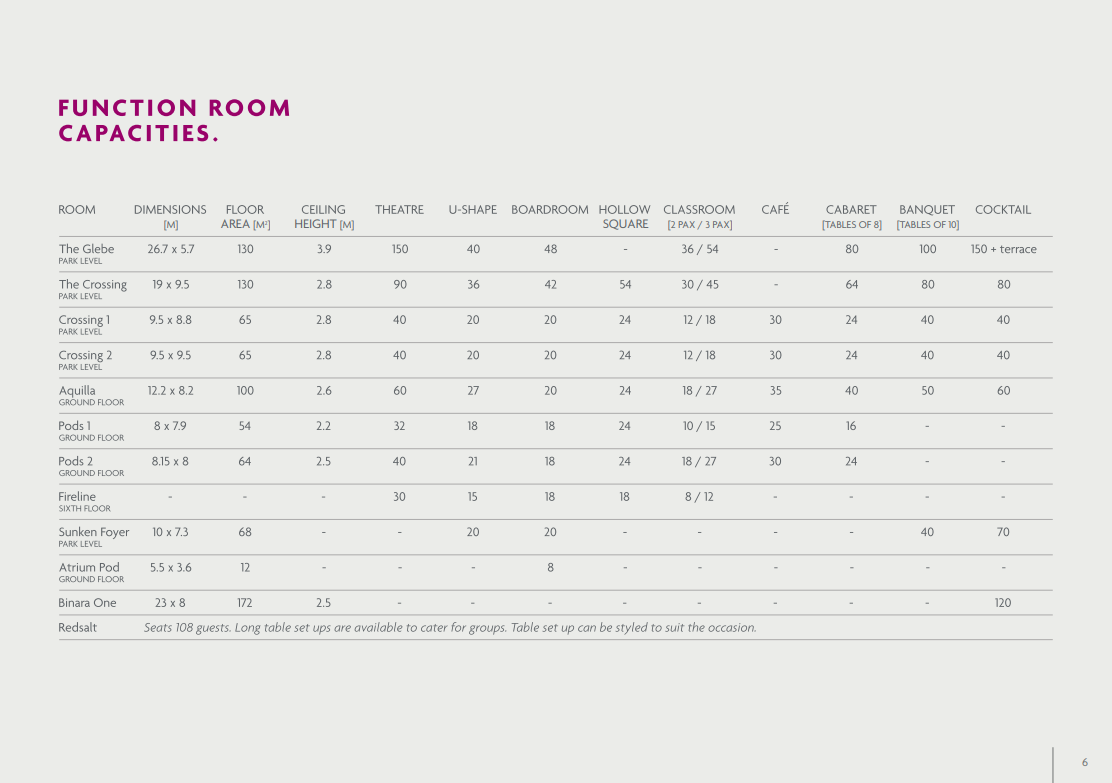 Keeping you COVID safe
We understand that now, more than ever, conference organisers are looking for flexibility in our proposals and contract terms.
We have empowered our conference team to consult with you on providing more flexible terms that suit your particular event and situation.
We have a long-standing commitment to rigorous cleaning procedures and launched our IHG Way of Clean program.
IHG Way of Clean already includes deep cleaning with hospital-grade disinfectants.
Frequently Asked Questions
Is Crowne Plaza Canberra located in the CBD?
Yes, Crowne Plaza Canberra is located directly opposite Glebe Park and adjacent to the National Convention Centre, on Binara Street. The hotel is 2.2km from Commonwealth Park, which overlooks the Molonglo River. Canberra Centre and surrounding precinct lies a short 350m from the hotel via Binara Street and Bunda Street.
Does Crowne Plaza Canberra have onsite parking?
Yes, paid onsite parking is available overnight for $29 for all guest or non-guests, who have not booked on a parking inclusive accommodation rate. Please note that the parking height limit is 1.9 metres. Unfortunately we are not able to accommodate oversized vehicles.
Does Crowne Plaza Canberra have a pool?
Yes, the hotel has an outdoor seasonal pool. Typical months of operation are between September and May.
Please contact the hotel directly on (02) 6274 5500 for more details.
Can meeting or conference organisers bring their own AV equipment, and can it be tested before the day of the event?
Yes, please speak to our event coordinators to arrange a time and date of your choosing.
Is a hotel bar present at Crowne Plaza Canberra for post event drinks and canapés?
Yes, Crowne Plaza Canberra has a new hotel lobby space available called Lume by Estate, which is operated by ETO Collective. Crowne Plaza Canberra's previous bar space, Binara One, is now a dedicated event space for hire and not for public use. Should you like to continue to rent this space out for your private meeting or event, please speak to one of our conference coordinators for more details regarding configurations and costs.
How far is Crowne Plaza Canberra located from the National Convention Centre Canberra?
Crowne Plaza Canberra is located a short 2 minute walk to the National Convention Centre, on a dedicated path, with no road crossing.
What is Crowne Plaza Canberra's relationship with the National Convention Centre?
The National Convention Centre (NCCC) is part of the global InterContinental Hotels Group (IHG).
Part of the InterContinental Hotels Group (IHG), the National Convention Centre has been operating in the Canberra market for 26 years. The National Convention Centre is the capital's largest, purpose-built conference, meeting and events venue, with more than 15 flexible spaces over two floors. It's unrivalled in facilities, size and scope.
Delegates can take advantage of key community events!




Breakfast & Parking on us
Enjoy complimentary breakfast & parking
Book early & save
Crowne Plaza Canberra
1 Binara St, Canberra ACT 2601
(02) 6274 5500
Accommodation - reservations.cbrbs@ihg.com
Events - eventscanberra@ihg.com
Crowne Plaza Canberra is owned by Salter Brothers Asset Management Pty Limited ©Crowne Plaza Canberra 2022